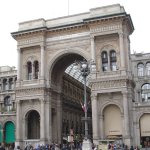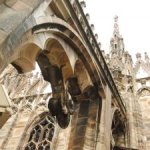 Milan is the capital city of Lombardia and is situated in a strategic geographical position which has allowed her to have an important centre of communication and supporting her to have a strong evolution in economy, finances, politics and culture. It is situated in the center of Pianura Piadana in between the river Adda and Ticino. Milan is in the center of a highway ring which connects her with the rest of the country and the north of Europe. Thanks to the two airports Malpensa and Linate, the city is linked with the rest of Europe and the rest of the world. Not to forget the train movement in the central station of Milan around which it is possible to find a large range of hotels in divers categories.
Milan represents the capital of Italian economy and not for this does she have a wide pole of flairs. During the whole year there are divers fairs in specific locations which moves millions of people between expositors and public. Recently has been inaugurated the new fair pole of Rho Pero around which are been constructed new hotels to accommodate the new flow of tourism attached with the business.
Milan, capital not only of the economy but also of fashion, culture and shopping, offers in more a lot of tourist attractions in which we will name a few like the famous Duomo, the Sforzesco castle, the touristic Brera, and the multiple cathedrals. For who wishes to visit the center of Milan it is recommended to stay in a hotel located near the metropolitan station which enables to move quickly from one side of the city to the other.
For whom wishes there are hotels of various categories, luxury to pension more economic in the center or in the surroundings.